In the previous post I wrote about enabling compression for your pages so that they would load faster to the visitor. Today I'm going to write about how you can make use of browser caching to save some bandwidth.
Some people told me that their ISP or hosting provider requested that they upgrade the hosting plan or subscribe for more bandwidth. Since this site doesn't have that much traffic, I wouldn't know.
However recently I was able to help on a website which has a lot of visitors compared to this site. Around 14-18 visitors per minute on a working day and the bandwidth usage was very high, more than a gigabyte per day.
For the website, I saw that there were many requests for images (photos). The images aren't that big anyway, around 100KB each but the amount of request made it significant.
Armed with knowledge of mod_expires, I added the following clauses to .htaccess while hoping that the server has the module installed. The following configuration is minimal, and Google Pagespeed actually suggests for 1 week.
<

ifmodule

 mod_expires.c>
        

ExpiresActive

 

On


        

ExpiresByType

 image/gif 

"access plus 2 hours"


        

ExpiresByType

 image/png 

"access plus 2 hours"


        

ExpiresByType

 image/jpg 

"access plus 2 hours"


        

ExpiresByType

 image/jpeg 

"access plus 2 hours"


        

ExpiresByType

 text/css 

"access plus 2 hours"


        

ExpiresByType

 application/javascript 

"access plus 2 hours"


        

ExpiresByType

 application/x-javascript 

"access plus 2 hours"


</

ifmodule

>

Although I know why Google Analytics set its expiry to 2 hours, it's kind of amusing since the suggestion comes from another Google product. Oh well I am allowed to be amused right?
So let's get to the results. Here are the bandwidth graphs from both days. I enabled mod_expires at around 6PM on 5 January 2012.


We can't really see the difference by looking at the graphs. Google Analytics shows that there are at least 200 more visits on 6 January 2012. The numbers? Here you go: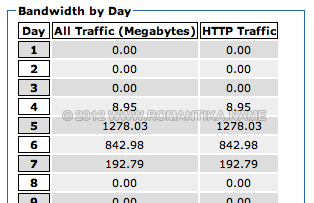 At least 400MB were saved by this technique. You can actually put specific settings for each folder in your website. For example 2 hours is nice for cosmetic images which may need to be changed frequently but not for photos. For example if you run a photography website, you can even make your photos to expire in 1 year!
What mod_expires does is actually telling the browser that the resource (images) will expire on a specific date. It's flexible enough to set the date from the access time. Here is the link to the official manual page for mod_expires.
Please be careful to note that this is not a quick solution for the lazy. You must think hard enough to set the proper amount of time before the images expire otherwise normal users will not see your changes or updates to the image until the cache on their browsers expire!
Good luck!