If you are a UniFi subscriber, and live in the Puchong (plus Damansara reported by achmatibrahim via Twitter) area you might have already been aware of the downtime since yesterday afternoon (8 December 2010). At the moment I am writing this post, it has been more than 12 hours. TM is not actively informing users about this downtime and all we get is this from their Twitter account: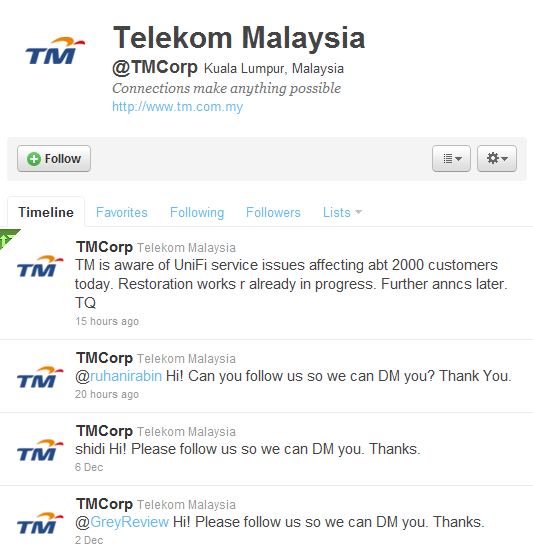 I have just called the UniFi Center a few minutes ago and the guy who picked up the call was a sales guy. He tried to contact the technical department but he failed. At least that's what he said. So he promised to call back with a ticket number. I think he will not call me until the whole thing is over. I will just lodge a report with MCMC.
At first, he told me that TM is aware of the downtime and it's because of server upgrade. That's a lame and insulting excuse. There is no announcement on the UniFi website.
Please people, if you are one of the affected subscriber please do your part by calling 1 300 88 1222 and insist on a ticket number for the downtime.
Even if it's one day, for VIP5 package subscriber that's already RM149/30 = RM4.97 and if every single person as mentioned in the tweet above makes a claim for rebate, that's already costing TM the amount of RM9,940 in rebates. Don't take it from TM that "it's OK to be down if so many people are affected". We pay for this service.
Don't ask for a rebate when calling the UniFi Center but ask for a formal report to be done. With the ticket number, go to MCMC website and lodge a formal report. The direct link to the Aduan is here.
We need to send a message to TM that downtime will cost them money. Otherwise it'll be as usual for every single service we have in Malaysia where we just sit and wait for the service to get back.
We need to make them go out of their beds and work on fixing the issue. I am serious about this. You can do your part.
Yes, I am getting old and like to rationalize instead of rant.