For this special entry of Malaysia's 48th Independence Anniversary I will be writing in Malay.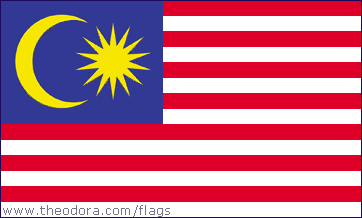 Hari ini, tanggal 31 Ogos 2005 Malaysia meraikan ulangtahun kemerdekaan ke-48. Banyak yang telah berlaku sejak hari bersejarah 31 Ogos 1957. Malaysia kini lebih matang dan melangkah pantas ke arah kemajuan.
Sudah tentulah, apa sahaja yang ingin dicapai semestinya datang dengan harga yang tertentu. Malaysian semakin maju, taraf hidup rakyat semakin baik, namun agak sedih apabila mengenangkan semakin banyak keruntuhan akhlak dan moral yang berlaku di sini. Tidak kurang juga, Malaysia yang dahulunya aman damai semakin tercemar dengan kes-kes jenayah yang tidak berhenti-henti. Kes bunuh, ragut, rogol, rasuah, dan sebagainya bagaikan lumrah kehidupan saban hari. Menonton Buletin Utama di TV3 sudah cukup, tidak perlu lagi menonton filem-filem Hollywood.
Saya tidak akan menyentuh langsung perihal politik di sini. Politik adalah amat kompleks bagi saya dan ada di mana-mana sahaja di muka bumi.
Saya bukanlah seorang tokoh masyarakat ataupun seorang ahli bijak pandai, oleh itu rasanya kurang layak bagi saya untuk memberikan pendapat yang lebih mengenai masalah-masalah negara. Tetapi apa yang nyata, kekal nyata. Hanya dengan menggunakan akal biasa saja kita fikirkan… Malaysia sudah merdeka sejak 48 tahun yang lalu, merdekakah budaya dan akal rakyat kita?
Keranamu Malaysia… Selamat ulangtahun kemerdekaan ke 48!