A friend posted a link in Facebook to Zee's video on YouTube, and I started to look for her songs. I really love her music and voice, as there is a certain old feeling to it, not quite the same but I can relate her to Norah Jones. And I commented on that Facebook link: "I like her music so much I'm gonna buy her album". The reply I received was that I shouldn't buy but simply download the music. Since I am very particular about music quality and I am happy to see a Malaysian artist making a name Internationally, I said I want to support Malaysian artists. That's also a reason why I am broke almost all the time.
When I went to The Curve on Sunday with my family, we went to Rock Corner to look for some Mozart CDs. Lazy to look, I asked the guy there whether Zee's album has arrived in Malaysia (who knows it might arrive late since it was released in US in May). And there it was, at the front counter along with all the new arrivals. To my surprise it was cheap… I was prepared to pay ~RM50 for an imported CD. I like Rock Corner because the guy over there is knowledgeable and helpful.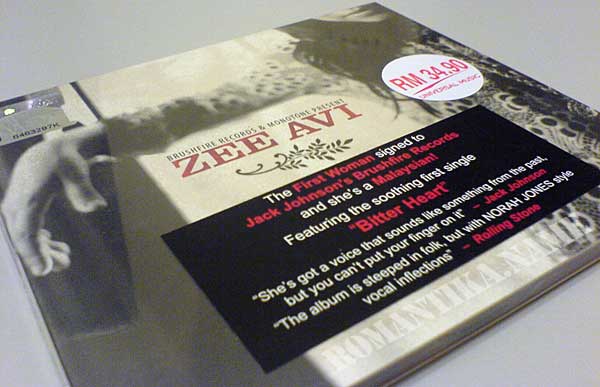 As usual, I made a backup copy of the CD for the car and ripped it to FLAC for my computer. To my friends, go buy one yourself if you want to listen. I don't support piracy.
The best music is the music you buy. I kept my promise by actually buying the album.
Here's Kantoi with the full English translations: