Alright, it's time for the second part of the Kuantan trip. For 23rd to 24th December we stayed in Vistana Hotel Kuantan, a 4 star hotel.
Afraid to be disappointed, I did not scan for wifi availability this time but at the registration counter there was a TMNET HotSpot logo so I asked the guy. He politely mentioned that Internet access is available 24×7 in the business center and lobby, via TMNET HotSpot service and they sell the starter pack for RM28.00.
The hallway of this hotel is undecorated as well, but looks nice and eye pleasing. I noticed a faint smell of paint so I asked a housekeeping girl whether they are renovating – they are. We were given a room at the top floor (6th floor).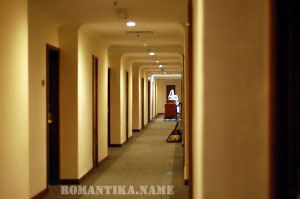 The room as we entered it (the strong back light fooled metering on the SONY T30):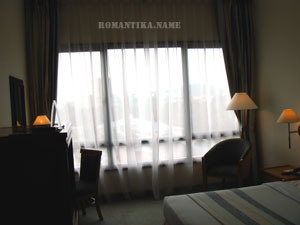 The queen sized bed is very nice and comfortable, and they even have a decorative runner: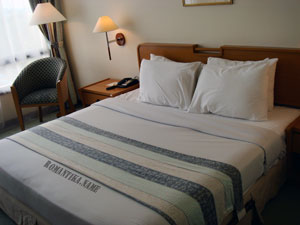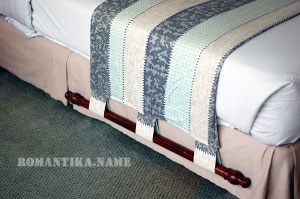 There's also a table for working on the side, with a big mirror on the wall so that you can see if you're too tired and it's time for bed 😉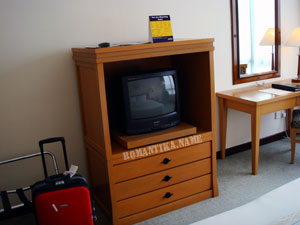 The pantry area is pleasing to use, and spacey. The wiring are all internals so you don't have to run around the room looking for an available socket.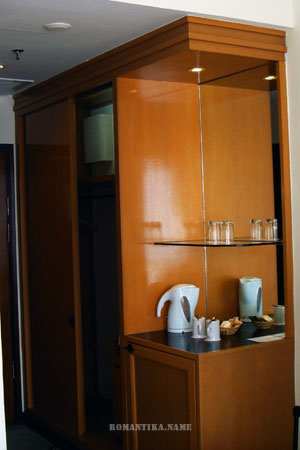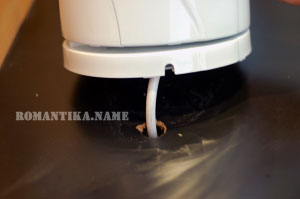 Being a hotel just a little away from the center of town, the view is not that great either. You can actually see Grand Continental on the last photo (the yellow building).
I think this is also an old hotel, but they renovate and upgrade from time to time. One artifact is this aged thermostat switch: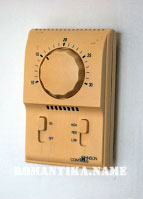 Another plus thing for Vistana compared to Grand Continental is the safe: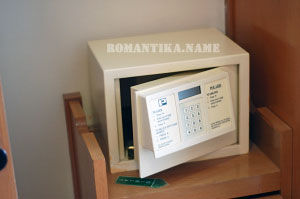 The bathroom is clean and the hygiene products they provided are of high quality.
Now to the other aspects.
People: I don't have so many comments on this except to say that the staff is very well trained, and there even a dedicated usher to open up the door for you.
Price: RM161.00 without breakfast. Good enough with the good service. We took the package without breakfast as we don't think we'll wake up the next morning as we were sure we will be tired. But it turns out that we were hungry and went down for breakfast – RM14.00 each. The interesting fact to point here is that the package with breakfast is more expensive than RM161.00 + RM28.00 😉
Breakfast: Breakfast is good but I guess they should have more people working as they had only 2 people waiting that morning. Food selection is good, with some local food likeNasi Dagang (being in east coast).
Parking: There exist a basement car park but we parked in front of the hotel which is very near.
Total Rating: 3.5 of 5. Will I come again? Sure thing. Will I recommend this hotel to my friends? Yes.
Internet: This is very interesting. On the first day after a tiring day, finished doing what we came to Kuantan for we went to the lobby and just simply try to scan wifi using our Pocket PCs. Guess what? There exist another wifi access point named "Vistana" besides the TMNET access point. And in no time we were on the Internet! Thankfully I did not buy the HotSpot starter pack when we checked in. We were able to check some emails and approve some comments on the blog…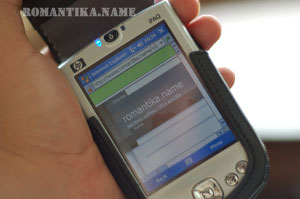 As usual, this is my own opinion and not an official review. I hope it helps anyone going to Kuantan and looking for hotels to stay.