I'm not sure whether all of you have ever heard or even knew E.T.? He (it) is an ugly looking creature from a movie when I was a kid.
KFC has recently changed their logo for the 3rd time since it was ever designed. And guess what did they do? They built a massive 87,500 sq ft logo!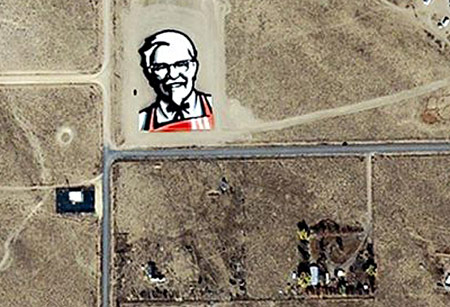 The logo, which are built with 65,000 tiles took 24 days to finish, and is located near Area 51 in Nevada. I've tried looking for it in Google Maps but I guess it's not there yet.
More news can be read here, and here.
Something that I really wanted to know but too lazy to ask:
The late Col Sanders, who died at the age of 90 in 1980, introduced his Kentucky Fried Chicken recipe at his own restaurant in 1939. He went on to run a chain of restaurants and developed celebrity status after appearing in his own, "finger-lickin' good" TV commercials.
Now I know Col Sanders is not a fictional character like Hello Kitty. 😉