Fancy a 4 days 3 nights vacation at Club Med Kani Maldives or Laguna Bay Redang with your 3 best buds?
Steps:
Post or update resume
Answer 2 simple questions about Monster
Send email to 3 friends
Click the image below for more information. This is NOT a paid advertisement and I don't receive anything for this post. Seriously.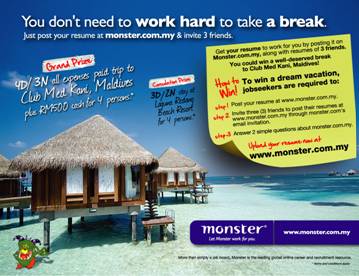 Hell I wish I am eligible for this promotion 😉