I have been working from home for almost a month now, and to cope with loneliness from the lack of company and with the noise produced by the work next door I always have my TV turned on while working. I used to hear about SpongeBob and I know what he is but never bothered to watch it. I stumbled upon the cartoon series once in a while at 5.00pm at TV9 (dubbed version) so I decided to watch it. Although I usually hate dubbed versions I have to say that for this series they did it pretty well.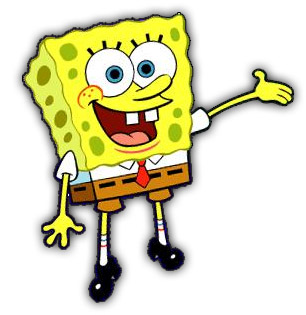 And now, I have learned to love Spongebob. If I have nothing important to do at 5pm everyday I will switch on TV9 and watch the yellow little guy with his friends Patrick Star and Sandy Cheeks, his colleague Squidward Tentacles, his boss Eugene Krabs, his pet Gary the Snail, and the unsuccessful rival of Eugene Krabs' – Sheldon Plankton.
SpongeBob cartoon series is fun to watch, as the funny elements are intelligent enough in contrary to some cartoons (local and international).
And yes, in history it will be known that my first post for 2009 is about SpongeBob. SpongeBob is my hero, he made me laugh and this suppresses my desire to commit any kind of crime.
Spongebob names in other languages:
Спондж Боб (Spondzh Bob) (Bulgarian)
SvampeBob Firkant (Danish)
SpongeBob Schwammkopf (German)
Μπομπ Σφουγγαράκης Τετραγωνοπαντελονής (Mpomp Spouggarakhc Tetragonopantelonhc) (Greek)
Bob Esponja (Spanish)
SpongaBobo (Esperanto)
Bob l'éponge (Bob the Sponge) (French)
네모네모 스펀지 송 (Ne-mo Ne-mo Seupeonji Song) (Korean)
Svampur Sveinsson (Icelandic)
スポンジ・ボブ (SuponjiBobu) (Japanese)
SvampeBob Firkant (Norwegian)
SpongeBob Kanciastoporty (Polish)
Bob Esponja Calça Quadrada (Portuguese)
Губка Боб Квадратные Штаны (Gubka Bob Kvadratnye Shtany) or simply "Спанч Боб" (Russian)
Paavo Pesusieni (Finnish)
SvampBob Fyrkant (Swedish)
Sünger Bob (Turkish)
海綿寶寶 (Mian Qiu Fang Kuai) (Mandarin)
BobSfoge Michnas Meruba (Hebrew)
So in Malay language he should be "SpanBob SeluarSegiempat" ?