I wanted to be able to use my personal laptop to check my work email, so that I don't have to carry around the 3kg DELL beast all the time. Sure, I can use the Blackberry but typing long emails on it can prove painful especially with fat fingers.
I have VPN access, but Cisco (official) VPN client keeps on and on causing my Snow Leopard to crash (kernel panic). The built in VPN client used to work until some security changes were made to the VPN concentrators.
Googling around I found a helpful hint, to set up my Entourage to connect to my work email via the Internet (not having to connect via VPN).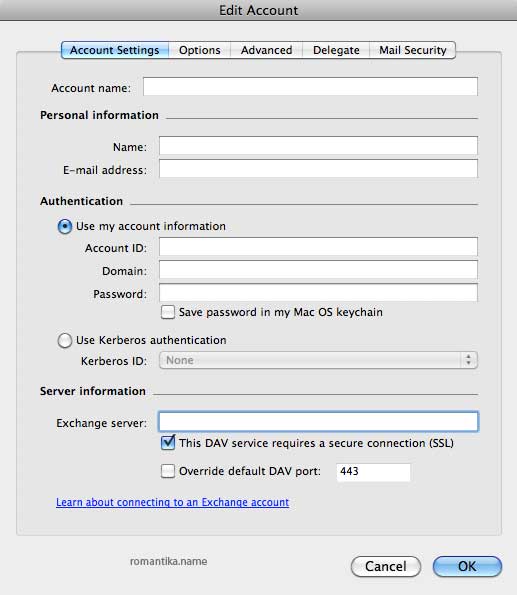 All of the fields are self explanatory, but one field was the problem: "Exchange Server".
If your organization has a "OWA" or Outlook Web Access, you can try entering <servername>/exchange/<your_full_email> into the field and see whether it works. For example if your OWA is owa.romantika.com and your full email is [email protected] you would use:
owa.romantika.com/exchange/[email protected]
One thing I have not figured out yet, is whether or not my organization has public facing LDAP server (for address lookups). Since this is not a standard configuration, the server names are unpublished anywhere. But since it's available I guess it's not against the rule.
Hope this helps. I can now check my emails from my Entourage, but that's it. No VPN access.
BTW I think you can use the same technique with an installation of Microsoft Outlook too!