Earlier today I went to Wangsa Maju to pick up some things for my niece's wedding next week. For lunch I decided to try out shops in the Wangsa Link area. My friend who owns a business there recommended a lunch at Aicu Kopitiam & Cafe.
Since it was hot we decided to sit inside where it's cooler. The overall ambiance is nice with old music playing in the background. We ordered a Barli Lemon Ais (Iced Lemon Barley) and an Teh O Ais (Iced Tea) and there was no delay at all before the drinks were delivered. Good. However instead of lemon they used LIME. Yes, lime.
Food is a different story. We ordered a Penang Kuay Teow, Nasi Goreng Kampung (Kampung Fried Rice), Telur Mata (Fried Egg), and Cucur Ikan Bilis (Anchovy Fritters).
After about 15 minutes, the Penang Kuay Teow arrived. 10 minutes later, the Fried Rice arrived. I was too hungry and started digging immediately. The fried egg however arrived 10 minutes later, when I was about to finish so I canceled it. The fritters arrived 15 minutes after that.
So the total wait time:
Penang Kuay Teow – 15 minutes
Fried rice – 25 minutes
Fried egg – 35 minutes
Fritters – 50 minutes
The food portion is a bit small for the price, and the food taste is OK. Not great but OK. I can eat that if I have no other choice.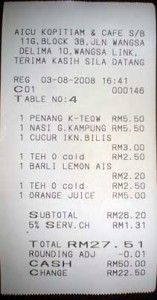 As a very fussy restaurant customer I always expect to get the exact menu I ordered. The first example where lemon is being substituted by lime clearly shows that there is no such thing as quality control. What you order is not what you get (WYOINWGY).
One thing to note is that they use chipped ice instead of the normal tube ice so it is constantly stuck in the straw hehe. And if you're really hungry, don't go to this place. It's nice if you want to have a discussion, though.
Oh yes, as with most Malay food businesses don't expect good hospitality. The cashier didn't even return a smile.
Next time I may try the Cheng Ho restaurant (owned by Amy Search) next to this place.
Searching for the restaurant name, I found another disgruntled customer. Well, almost customer.
The Datuk who own this place should take a look at the business better.