Looks like August is another busy month for me. Earlier this month I went to Terengganu for my niece's wedding. It took a lot of work to be the organizing party. One niece married, 2 nieces, 3 nephews, and a son to go.
I took a 3-day's leave (thanks boss!) during the first week and spent 5 days there. It was tiring especially because I had to go to work on Monday. But it was worth the hard work and money spent. Here's a photo from the event: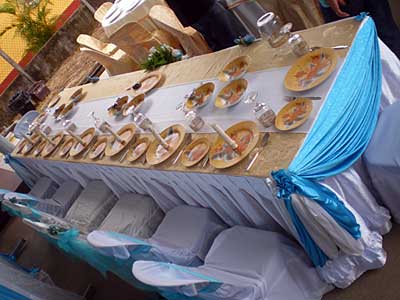 For those who are not familiar with Malay customs, this is the table where the bride and groom have their special lunch. The menu is a little different from everyone else. Accompanying the bride and groom is the groom's family since this is the bride side of the wedding. At the groom's side it depends on the custom of the state and family. According to our Johore custom (where we originally comes from) the groom's party is as big as the bride's party. But since the groom is from Terengganu it's different.
Back to real life in Selangor I have many things to settle. The house purchase matters and EPF has just been settled on Friday. And my external client is facing some problems with their mail infrastructure. I've just finished a script for them to maintain Postfix aliases since they have a lot of groups. I utilized SQLite and perl to achieve something like a menu system for maintaining users and alias groups. I am also very busy at my day job, since there are a lot of release issues to attend to.
This weekend I have to go shop for baby stuff again especially I heard IKEA is having a sale. What else… oh yes I just came back from watching Wall-E. It's cute and nice but far too simple for me but I don't expect more. It's fun.
If I have time tomorrow I will also do a summer cleanup before the fasting month arrives. The baby's coming out soon and we really have to do something about the junk that is cluttering our home, and think about moving plans. That is why I was thinking of an attic earlier :-D.
That's all as an update for now I have to wake up early tomorrow!