On Sunday afternoon we got bored at home and decided to go out, just anywhere. We finally decided in the car to go to Taman Tasik Cyberjaya, also to check out the latest addition, the Community Club. For non Malay speakers, Taman Tasik Cyberjaya translates to Cyberjaya Lake Park. Some people prefer to say it as garden but it's more like a park to me.
The whole area was quite big, and I actually broke some sweat walking all the way from the park entrance to the community club. Yes, there are actually 2 different entrances (maybe 3) – one to the park and the other one to the community club. Since I was looking for the community club but parked at the park entrance I had to walk quite a long way.
Coming from Persiaran Multimedia (MMU road) we'll first encounter the park entrance, as the community club entrance was actually further. But after we left the park and went to look for the community club entrance, we discover something new (at least for us) – that MMU has a second grand entrance at the back complete with the big sign and a guard post. Cool.
Click on continue reading for more…
Although I work in Cyberjaya I never wandered to this part of "town" so I was actually looking for a map earlier in the Internet. I searched for Taman Tasik Cyberjaya and Kelab Komuniti Taman Tasik Cyberjaya but never encountered the official site. All I got was a bunch of press release and also videos of some artists performance there, perhaps when they open the place.
It is when I arrived at the community club I saw the URL on one of the sign board. They chose kkttc.com.my, so that is why I never found it in Google. Oh well I can't blame them. What do you expect? kelabkomunititamantasikcyberjaya.com? 😉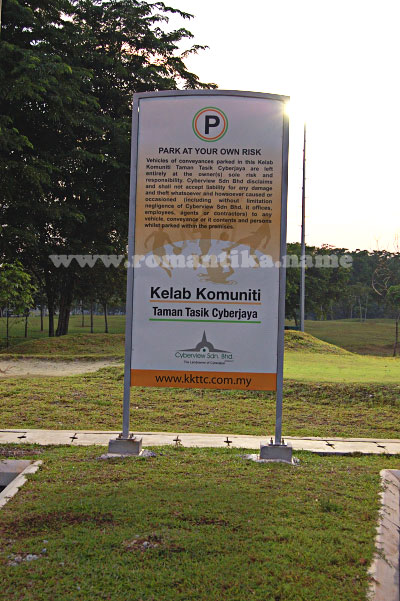 The site is actually under construction, but there are 2 small links pointing to the location map and charges for their services. The site is www.kkttc.com.my. The map covers all possible entry points from major highways but I must say that the map could be more detailed especially on the park entrances. So here's a Google Map zooming to the area, but it still does not contain the community club, perhaps an old shot.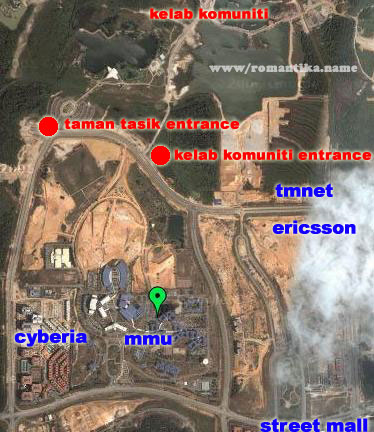 The facilities there are okay, actually quite good compared to the prices they offer. I am thinking of utilizing the gym and the pool once in a while.
So why wait, meet me there!