This website and some other websites I maintain had their ups and downs. All of my websites are running via CloudFlare.
When you are utilizing CloudFlare and your website is dynamic (not static HTML pages), CloudFlare will still need to contact the server where your website is hosted in order to get the latest content. Few examples of dynamic websites include the popular platform like WordPress (what this site is running), Joomla!, Drupal. That is a tiny list as an example.
Well, unless the host is running RailGun but that's a totally different story for a different time.
So this is the dreaded screen: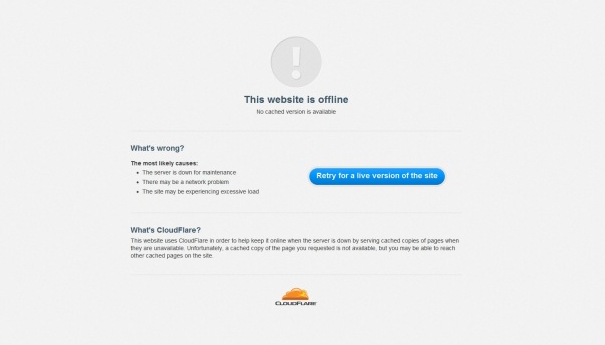 I used to think that it was CloudFlare's fault. But after a lot of observations, I do think that the hosting providers are not reliable enough especially if they are not Cloudflare certified. I've used popular providers in Malaysia (at least 3) and the USA (one giant), and I still receive this page a lot. Well, even if I don't receive this page, I receive regular alerts from UptimeRobot telling me that my websites are not accessible.
All websites at the same time. So the most logical explanation was that the origin server was down.
I have had people emailing me telling their experience that CloudFlare is not reliable, but for me, it's really good to save bandwidth and increase the load time for geographically scattered visitors. Sure, there are times when they make mistakes like what happened in February last year but hey, we're all humans. Plus the service is really cheap compared to the value they provide.
Some hosting providers who aren't aware about Cloudflare will mark the IPs as abusive since only CloudFlare IPs will access the website (Note: HTTP server logs can have real IPs using modules or configurations). Plus, providers who charge based on bandwidth will lose a significant amount of money to be billed to their customers since Cloudflare intercepts and caches static contents very well.
Because of this reason, the sites I own are now running in VPS fully managed by me. So far, after more than a month there isn't a single case of downtime. So far so good.
So go ahead and give CloudFlare a try.