Nowadays, there's a lot of programmes in TV showing how poor citizens suffer. I wonder what the government have been doing with the BaitulMal money?
Here's the total collection for September, taken from the Pusat Pungutan Zakat Wilayah Persekutuan website: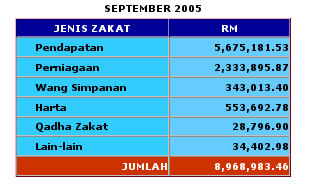 Hmmm… 8 million. Maybe PPZ officers need to go out, and not just rely on applications from poor citizens. Sometimes the old ladies taking care of 7 grandchildrens are not educated at all to know that such funds exist.