Anyone else uses Google calendar? It's my favorite web calendar, and I will like it more if it can sync with Outlook 2000 that my workplace still uses. One great feature that have been added a while ago is an option to add your country's holidays in your calendar:
Of course, I immediately added Malaysia Holidays to my calendar but I found an incorrect entry. Awal Ramadhan (Ramadhan Begins) is shown as 15 October 2006 instead of 24 September 2006. However, this date is shown correctly on the Islamic Calendar: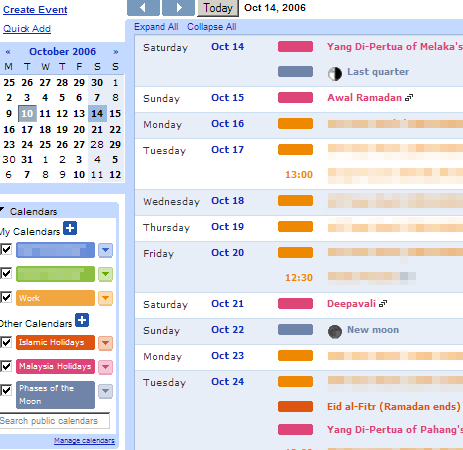 It's not really a big deal, but I just wish I can correct the almost perfect calendaring system. I've tried to look for the person to notify but can't find any 🙁
Anyway, that's just one wrongly entered date. I don't really check the other dates. However the birthdays of YDP Melaka and Sultan Pahang, and Deepavali is correctly set. It's just that Sultan Pahang is now also a YDP 😉
Well done, Google.